Welcome to Arns Winery
After being growers for several years and providing grapes to renowned vineyards across the Napa Valley, John Arns and Sandi Belcher established Arns Winery in 1990 and made their official debut as vintners with the release of their 1992 Cabernet Sauvignon. The grapes were sourced from a 160 acre parcel that sat at an elevation of 800ft above the valley floor and just below the Howell Mountain Appellation. The Arns family had purchased this estate in the late 1950's as a family retreat, and although it was previously planted to Zinfandel, a decade later was replanted to Cabernet Sauvignon. The ten acre parcel that was home to 2,900 vines per acre, was divided in 10 different blocks planted with clones from Bordeaux and Napa Valley and provided the fruit for all our estate grown wines that our fans have enjoyed for almost three decades.
The combination of clonal selection, organic farming practices, and minimal irrigation provided us with low yields of highly concentrated and intensely flavorful fruit. Seven different clones of Cabernet Sauvignon that varied in age from 15 to 45 years old, planted at high density in Aiken and Boomer Gravelly Loam soils, provided the characteristics that define our wines. Our grapes are very multidimensional with clear notes of black fruit, anise, chocolate, cherries and allspice.
During our vinification process we age all blocks separate to evaluate their performance and we blend the clones with the goal in mind to make a wine that has the potential to age and improve with the pass of time. Not following standard timing, our bottling is done when the wine is ready, usually after 2+ years of being aged in 100% new French oak barrels.
John Arns is a native of Berkeley, CA and a graduate of the University of California Berkeley with a degree in Art and Sculpture. He worked in South Australia with famed vintner Peter Lehmann of the Barossa Valley who encouraged John to pursue his interest in grape growing and winemaking. After obtaining a degree at the University of California Davis in Viticulture and Enology he started his own vineyard consulting business. As a professional vineyard consultant, he has combined his love of art with agriculture to sculpt vineyards into masterpieces accentuating quality in the vines. In the 1990′s he extended this passion through his own grapes creating Arns Winery. He teamed up with his partner, Sandi Belcher, as winemaker and established Arns Winery. Their first release was their 1992 Estate Grown Cabernet Sauvignon sourced from grapes farmed at the property his parents had purchased in the 1950's and that he had replanted in the mid-to-late 1960s.
Sandi Belcher
Owner / Winemaker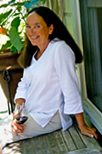 Sandi Belcher is a native of Williamsburg, VA. After college at the College of William and Mary she came to the University of California Davis to study Animal Science/Agriculture. A brief visit to the Napa Valley in the early 1970′s, was all it took and she was enthralled with the wine industry. She worked harvests while studying at Davis to gain knowledge about the industry and her curiosity took her abroad to work and learn about practices in other grape growing regions. Returning home to the Napa Valley, she spent 27 years making wine at Long Vineyards on Pritchard Hill while teaming up with partner John Arns, to fulfill their desire to create Arns Winery. She has also been involved in vineyard and winery development in China, Thailand and other grape growing regions.
Kathi Belcher Tyler
Assistant Winemaker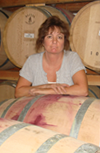 Kathi Belcher/Tyler grew up in St. Helena, CA and after graduating High School in St Helena, obtained an Associate's Degree in Information Technology with a concentration in Microsoft. Growing up among the vineyards of Napa Valley as well as in Germany, Kathi was exposed from an early age to grape growing and winemaking. Working at different wineries while attending college gave her valuable experience and her role at Arns winery far exceeds her formal title of Assistant Winemaker.